Research indicates regular badminton and tennis are sports most protective to health, while football and running are bottom of the table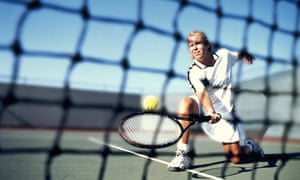 Photograph: Cyberimage/Getty Images
Not keen on racket sports? Don't despair: the authors stress that all types of physical activity are beneficial to health.
If you want to stave off death for as long as possible, you might want to reach for a tennis racket.
Scientists attempting to tease apart the benefits of different sports have found that regularly taking part in sports such as badminton or tennis reduces your risk of death at any given age by almost 50%, with swimming and aerobics also proving protective.
Health racket: tennis reduces risk of death at any age, study suggests